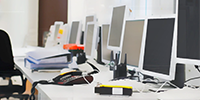 Industrial control systems have been moving toward open systems, using COTS operating systems and such standard protocols as Ethernet and TCP/IP. This trend is making these control systems increasingly susceptible to the same software attacks as those present in offices.
If not available, critical infrastructures, on which our daily lives and business activities are based, have a great impact on them. Especially for those critical infrastructures of electricity, gas, water, railroad, aviation, oil, chemical, etc, control systems are expected to have not only high reliability but also security resilience for service continuity.
Under the slogan of "Secure World and Future, By Secure Control Systems", CSSC-CL will keep trying to strengthen the security of Japan's critical infrastructures and the exporting competitiveness of Japan's vendors by means of various activities.